But his true aim was to undermine the Catholic church, the Cardinal argued.
Papal contender
As Archbishop of Bologna, one of Italy's most populous and richest dioceses, Cardinal Biffi is a clear contender for the papacy, given that his fellow cardinals may well decide to select an Italian as successor to the present Pope, who is now 79, when he dies.
However, Cardinal Biffi is also deeply conservative in his views and his remarks are likely to offend some progressive Catholics.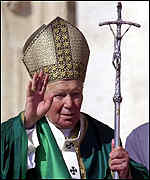 As the Pope becomes frailer, questions about the succession are more pressing